The Art of Judgment: Reality Judgment
About this Resource
This paper is the first in a series by Ceri Williams that explores the role of judgment in Enterprise Architecture. In particular, it focuses on the relationship between Enterprise Architect, the information and the stakeholders that enable successful execution of that role. 
Architecture and design are decision-centric, human processes that apply human values to information within the context of defined objectives. Conscious and unconscious decisions are made constantly by individuals and groups. The way in which the information is acquired, managed and presented, whether through specialized tools or the back of an envelope place critical constraints on the nature and quality of decisions possible.
For the purpose of this paper, analysis of judgment considers three key dimensions: the type of judgment, why people differ in their judgment, and qualities of a good decision.
Already a Member? Sign in here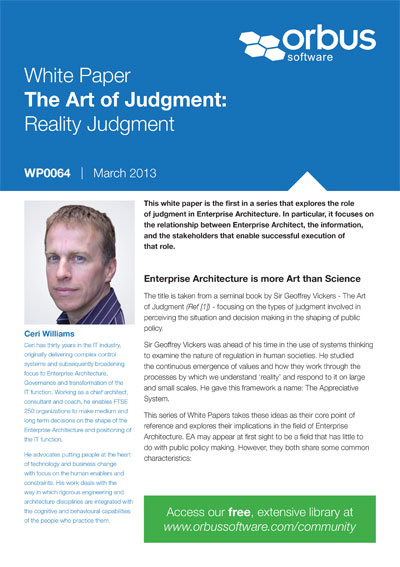 Our website uses cookies to improve your experience on our site. By using our website you consent to the use of cookies.