Modeling Transactions with BPMN 2.0
About this Resource
IT experts usually associate the term transaction with distributed database systems operations. In this context, transactions play a crucial role to maintain the integrity of data. A single database transaction consists of several independent units of work, each reading or writing information to a database. When a transaction is finished it is important to ensure that the corresponding units of work leave the database in a consistent state.
Similar to databases, a transaction can also occur in business processes. A business process consists of a series of tasks which are performed in a predefined order. In some cases, the tasks are interrelated in a way which requires successful execution of several tasks in order to fulfill a business objective. In the opposite case (if only some of the required tasks are executed) a serious problem might occur.
In this white paper, Gregor Polančič focuses on business transactions and their representation in BPMN 2.0.
Already a Member? Sign in here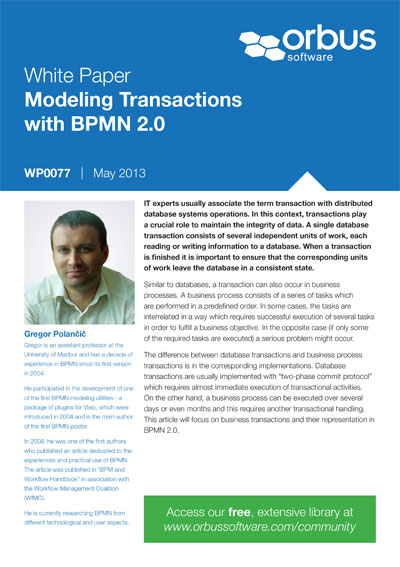 Our website uses cookies to improve your experience on our site. By using our website you consent to the use of cookies.