Solutions Hub
Self-Service, Turn-Key Solutions Accelerate Delivery of Your Transformation Initiatives
Solutions-as-a-Service for the iServer Environment
Faster time to Value with Turn-key Solutions
Access to an evergreen catalogue of pre-wrapped automation solutions, built by the experts, to augment iServer capabilities
Focus on Critical Business Outcomes
Hub Solutions streamline the steps from data capture to decision making for customers seeking specific business outcomes at pace
Seamless Deployment Experience
End-user empowerment front and centre with 'click and go' self-provisioning of solutions directly into the iServer Environment
SaaS Powered by the Microsoft Cloud
No hardware or software required with a true SaaS platform built on industry-leading Microsoft Cloud technologies: Microsoft 365 and Azure
Secure by Design
The Azure backbone provides enterprise-grade encryption and permissions features, scalable globally to accommodate all sizes of initiative.
Tiered Subscription Plans
Multi-tiered subscription pricing model caters for all budgets, allowing you to scale at pace as your practice or initiative matures.
5 Solution Categories Contribute to Faster, Smarter, Delivery of Outcomes
Data Connectivity and Integrations
Out-of-the-box integration solutions are provided with popular cloud services and systems – enabling you to set up tailored data interchange between your systems of choice and iServer.
Assessment Toolkits
A wide range of toolkits & surveys using proven methodologies for data collection and assessment ensure you crowdsource the right data from the right people across the business.
Reference Content
A library of cross industry and cross-domain reference models and architectures is provided to guide and expedite your transformation journey
Collaboration
A range of solutions leveraging Microsoft 365 applications to engage diverse stakeholder groups and drive effective collaboration across the enterprise
Reporting and Visualisations
Out-of-the-box reports and data visualisations, rendered in the industry leading tool, Power BI, provide critical data insights to power smart decision-making
Seeing is believing
Take a demo to see how we can transform how your enterprise operates
Book your Demo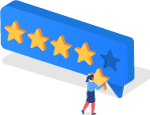 What our Customers are saying
Implementation was easy with the product coming to life with the latest 2017 version
The supplier remained committed to the organisation as it matured into an Architure practice
Chief Enterprise Architect in the Healthcare Sector - read the full review
Read Case Study