IT4IT™
A central repository preconfigured to the IT4IT Reference Architecture, notation and framework

iServer's IT4IT™ support provides a Value Chain based approach to help organizations structure and manage their IT landscape. These guiding principles and concepts for IT management enable you to build on the processes that are already in place, leveraging the value of existing frameworks such as TOGAF, COBIT or ITIL to create a synergistic, holistic view of the organization.
Watch the IT4IT Reference Architecture Video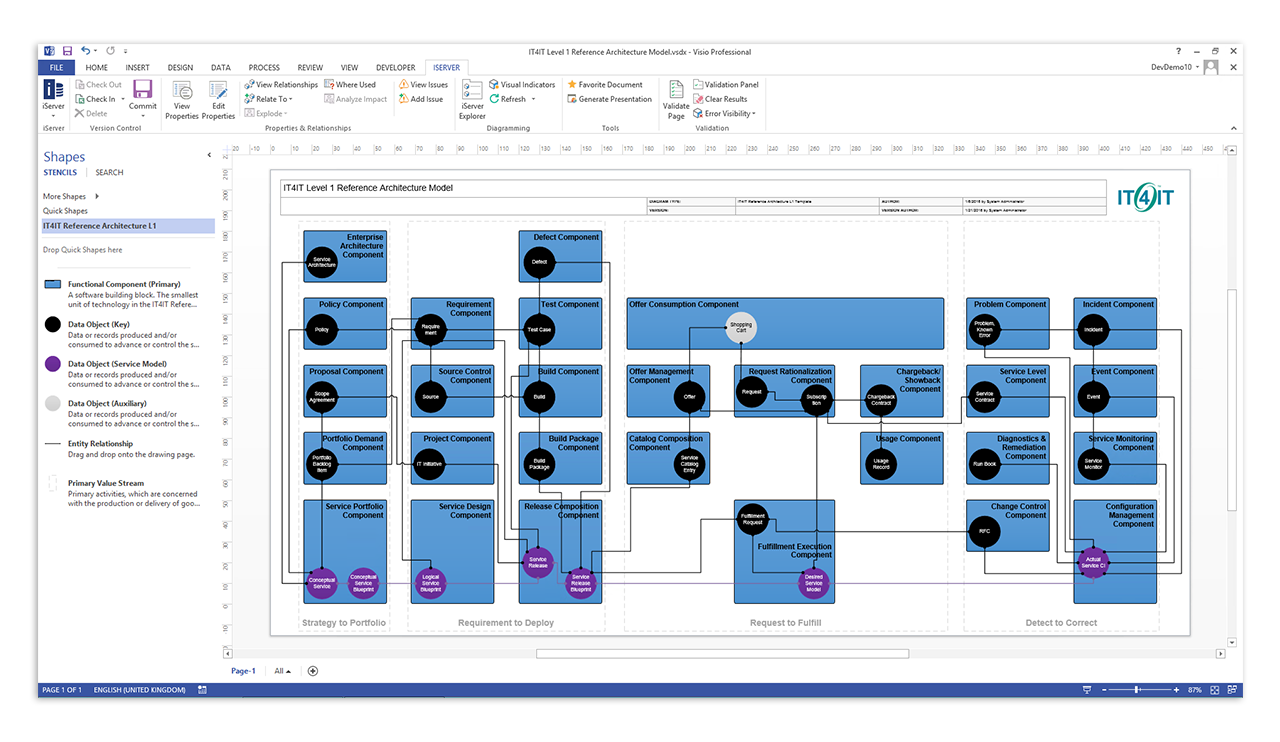 IT4IT Reference Architecture Level 1 - click to expand
A Central Repository for IT4IT
iServer provides support for the IT4IT specification in the form of a preconfigured central repository with Visio modeling stencils and diagram templates. It also provides core models and examples necessary for implementing the IT4IT specification. This includes the IT4IT Reference Architecture Model Levels 1 and 2.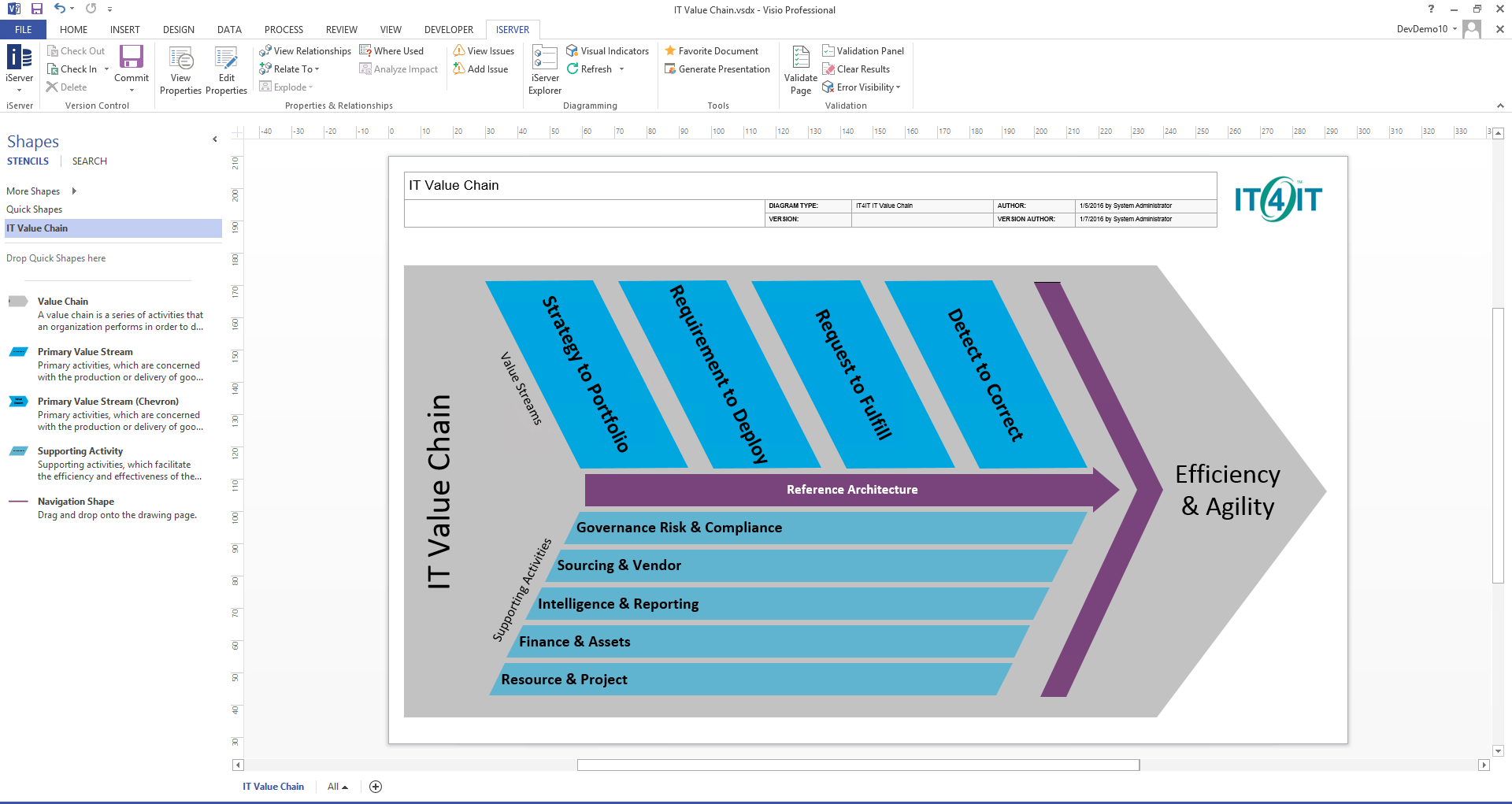 IT4IT Value Chain
IT4IT Value Chain
iServer's IT4IT software uses a Value Chain approach to help organizations standardize their IT landscape documentation and modeling by using The Open Group's IT4IT informal modeling notation, and ArchiMate 2.1. It provides the IT4IT Value Chain Model, decomposed into value streams and components via drill down diagrams.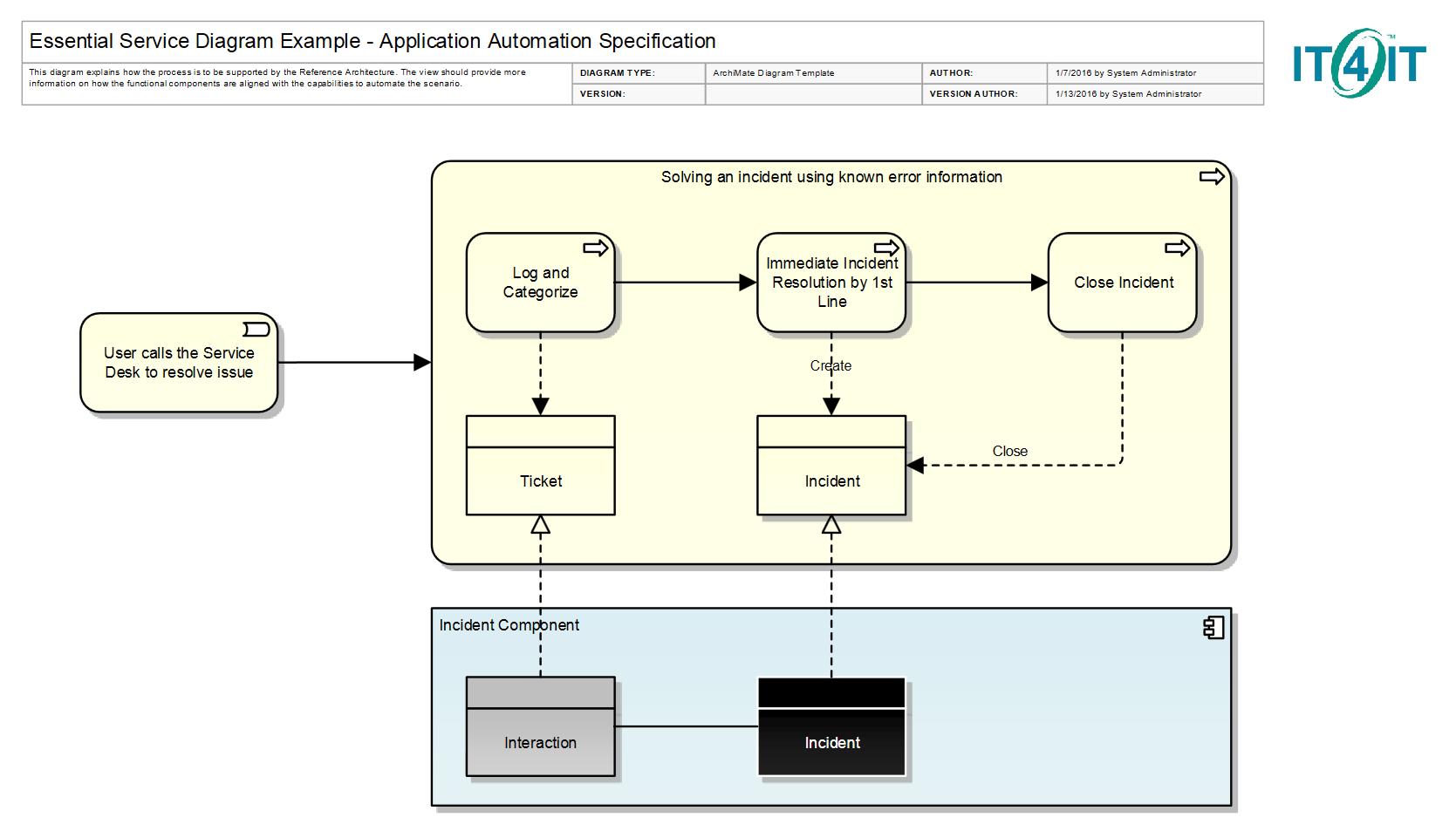 IT4IT ArchiMate support
Notation and Framework Support
iServer provides full support for the ArchiMate notation to help model details of the IT4IT components. iServer also offers full integration with other reference frameworks, methodologies and standards. Integration with the TOGAF ADM is available through a governed repository structure and fully documented Architecture Development Method (ADM). Other frameworks and standards that can be integrated include the ITIL 2011 framework, COBIT 5 for IT governance best practice, Lean process improvement, and SABSA for IT security guidance.
Click here to see the full range of converging standards and frameworks that iServer supports.

Ready to take your IT4IT Reference Architecture further?