iServer Cloud Capability
Scale your enterprise architecture solution without the need for on-premise infrastructure, using iServer in the cloud.
Book a Demo
Enjoy a zero-footprint deployment with the iServer Cloud solution
With cloud deployment, you get all the benefits of using iServer for your enterprise transformation without the need for infrastructure changes or setup. iServer is hosted and managed by us and securely accessed through a web browser.
Hosted in Microsoft Azure and leveraging their infrastructure technology, iServer Cloud focuses on high reliability, excellent performance and providing a cost effective solution.
Minimal Impact
A zero footprint deployment with no need for internal resources or infrastructure setup, freeing up resources and budget. The service is supported and maintained by Orbus Software, with updates and security patches included. All you need to do is focus on what you put into iServer.
Cost Flexibility and Savings
A subscription license model is available which is OPEX budget aligned, opposed to the yearly price for an on premise installation. This provides flexible costing options for using iServer and can offer a lower total cost of ownershipe.
Security
Leveraging Microsoft Azure's hosting capabilities, the hosted solution benefits from Azure's excellent security, privacy and compliance standards. Intelligent controls and analytics provide transparency, privacy and easy control over your solution.
Reliability and Scalability
With Azure providing a 99.9% uptime you can guarantee iServer will be available when you need it. Disaster recovery and backups are included in the cost, with the ability to scale up your service with ease at any point.
Seeing is believing
Take a demo to see how we can transform how your enterprise operates
Book your Demo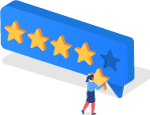 What our Customers are saying
Intuitive for users and consumers alike, with opportunities to integrate to other systems.
iServer comes with some great accelerators to help get your repository started. We have had the TOGAF and BPA solutions from the start and built on these to extend the metamodel for our own specific requirements. 
Architect in the Finance Sector - read the full review
Read Case Study