What is iServer Ideation?
iServer Ideation enables C-Level executives to engage with the rest of the business by defining strategically aligned challenges. Ideas are then crowdsourced from across the organization, shared and voted on, before being scored against strategic criteria and prioritized with the help of metrics and dashboards.
Tight two-way integration with iServer directly relates challenges to strategy objects captured in the enterprise architecture repository. At the same time new ideas are synced into iServer, ready for further analysis.
iServer Ideation is designed and built on top of Office 365, providing everyone with a rich and familiar experience to ideate in, blending seamlessly into existing intranet and digital workplace offerings.
Find out more about iServer Ideation
Like what you see? Book a demonstration to see the iServer Ideation module in action
Book a Demo
Features of iServer Ideation
EA Aligned
Two-way integration between iServer and SharePoint makes it possible to import strategy and sync ideas.
Built for Office 365
Collaborate with a rich and intuitive user experience ensuring a short learning curve and ease of use for non-technical stakeholders.
Supercharge your intranet
Enhance employee engagement and communication by adding ideation to your digital workplace.
Extend and integrate
Gather data from an array of sources including Project Online, JIRA or any other project management tool.
Powerful and scalable
Create as many ideas and challenges as you want.
Powerful insights
Drive effective prioritization of ideas and understand relations between them.
Benefits
Build a culture of innovation by empowering employees, encouraging collaboration and breaking down silos
Uncover solutions to business critical objectives and challenges in the discovery phase
Gain competitive advantage by harnessing your team's knowledge and deliver cutting-edge products
Improve customer experience by identifying gaps in support and retention programs
Business Outcomes
Measurable innovation - ideas can be tracked throughout their entire lifecycle, from inception to execution
Enhanced planning and roadmapping capability through improved visibility of project pipeline and demands
Increased employee engagement and strategic alignment - C-Level executives can engage directly with employees who can in turn voice ideas and solutions straight to the top
Who Uses it
Enterprise Architects get increased visibility and insight across the organization enabling them to be more proactive in discovering projects and delivering roadmaps
Heads of HR / Communication Managers are able to enhance engagement of their employees and extend current intranet type offerings
C-Level executives responsible for driving innovation and strategy can talk and interact directly with their employee base
Heads of PMO will see their project pipeline ahead of time, as it comes through in the form of ideas
Everyone in the organization can use Orbus Ideation to make a difference by contributing ideas and solutions to complex business challenges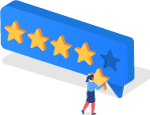 What our Customers are saying
Simple to deploy and use
The solution provides the best approach for non-IT business users while allowing the organization to building the foundation of an enterprise architecture, in our case highly centered around the business process and solutions domain.
Head of Unit in the Finance Sector - read the full review
Read Case Study