What is Process Simulator?
Find out more about Process Simulator
Like what you see? Book a demonstration to see the Process Simulator module in action
Book a Demo
Features of Process Simulator
Answer the 'What If?' questions
One of the limiting factors for any organization deploying business processes is understanding how a process will actually perform in an everchanging business environment, with actual human and technical resources.
With iServer Process Simulator you can visualize a range of business processes scenarios and view the output metrics and reports instantly.
Make informed decisions
Analyze the impact of those changes, and compare multiple business scenarios before selecting the most efficient without the risk of impacting your live business operations.
Visualize
Visualize the processes that will provide the best results for your organization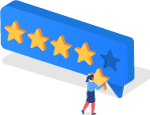 What our Customers are saying
Steep learning curve for immature EA programs, but a great tool if you invest the time
Great pre-sales review of the product and functionality. Installation was simple and straightforward. Included training modules were helpful. Ramp up time for basic functionality was short, but more complex features and functions took a while to figure out, even with instructor-led training. Use of Office tools made the learning curve a little easier to manage.
Security Architect in the Healthcare Sector - read the full review
Read Case Study