What is Process Simulator?
Find out more about Process Simulator
Like what you see? Book a demonstration to see the Process Simulator module in action
Book a Demo
Features of Process Simulator
Answer the 'What If?' questions
One of the limiting factors for any organization deploying business processes is understanding how a process will actually perform in an everchanging business environment, with actual human and technical resources.
With iServer Process Simulator you can visualize a range of business processes scenarios and view the output metrics and reports instantly.
Make informed decisions
Analyze the impact of those changes, and compare multiple business scenarios before selecting the most efficient without the risk of impacting your live business operations.
Visualize
Visualize the processes that will provide the best results for your organization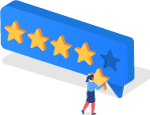 What our Customers are saying
Consider this solution for your architecture documentation repository
Our account manager is always helpful, with timely responses. Orbus sends informative emails but not too frequently. Plenty of product documentation is available on their website.
Innovation and Enterprise Architect in the Healthcare Sector - read the full review
Read Case Study