What is iServer Reporting Services?
iServer Reporting Services is used to create, manage and deploy custom reports. These reports extract information from the repository for presentation to stakeholders in a variety of supported formats, including Microsoft Word, Excel, PDF, HTML and XML. These custom reports enable teams to combine and customize data beyond standard reporting.
Find out more about iServer Reporting Services
Like what you see? Book a demonstration to see the iServer Reporting Services module in action
Book a Demo
Features of iServer Reporting Services
Intuitive Reporting Interface
A reporting engine is built upon Microsoft SQL Reporting Services, Microsoft's standard reporting platform, and can be used to create, manage, and deploy reports.
Customizable Reporting Capability
Reports are executed in iServer, but once complete can also be published to a web-server or hosted within a SharePoint or .NET page for sharing with the wider business.
Varied Reporting Formats
Reports can be published in a variety of formats, including HTML, Microsoft Word and Excel, PDF, and XML.
Model Reports
Report on the model - objects, relationships, diagrams and views - such as object catalogs, relationship matrices or hierarchies, and gap analysis comparison reports.
Audit Reports
Report on who changed what and when - understand a detailed audit trail of how iServer is being used. In addition, reports for repository health-check and process/meta-data completeness.
Documentation Reports
Generate documentation such as process manuals, business requirements documents, solution architecture documents, by exporting diagrams and model content to Word/PDF.
Benefits
iServer Reporting Services saves time and manual effort by being accessible directly from within the core iServer repository. This means that business users can quickly and easily generate reports targeted towards the needs of stakeholders and other members of the team.
The out of the box report packs provided offer a great starting framework for reporting on repository content. These are available to suit a range of business requirements, including audit, productivity, analysis, and roadmap reports.
Business Outcomes
Reporting Services uses Microsoft SQL Reporting Services to enable reports to be extracted from the iServer repository in different formats to meet stakeholder information needs. The out of the box reports can be easily created without additional cost for system configuration and setup.
Save time normally spent combining information from a number of sources, and can quickly create reports including those detailing process completeness, unused process elements, or duplicate process elements across your processes.
Generate audit trails of how the iServer repository is being used, facilitating scalability considerations, as well as user reporting for security purposes.
Who uses it?
System Administrators can easily generate and maintain an updated audit/user report on who's changed content in the repository and when, to understand how the repository is being used.
Content Managers can create, manage and deploy custom reports such as process manuals, business requirements, and solution architecture documents in Microsoft Word, Excel, PDF, HTML and XML formats.
Process Modelers will generate model/meta-model reports, to view information about object, relationships, views, gap analysis comparison reports, or report on the configuration within iServer, to facilitate a better modeling experience.
Download the Flyer
To find out more about the Reporting Services module we have compiled a detailed list of features and benefits for you in this handy flyer. You can download it by clicking the link below.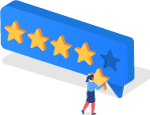 What our Customers are saying
Great out-of-the-box EA tool with good cost/benefit ratio
A stable application with broad functionality that empowers the users to maintain and flexibly analyse portfolio data. User-friendly, business-oriented look&feel, also by using MS Visio.
Project Manager in the Mining, Resources and Energy Sector - read the full review
Read Case Study