What is ServiceNow Connect?
ServiceNow connect is an integration module that syncs data and schedules automatic updates between iServer and the Now platform. It includes support for customized metamodels within both ServiceNow and iServer, as well as multiple import profiles.
Find out more about ServiceNow Connect
Like what you see? Book a demonstration to see the ServiceNow Connect module in action
Book a Demo
Features of ServiceNow Connect
Import Scheduling
You can schedule regular updates and sync data imports to run automatically, at a time that suits you.
Leverages both iServer and ServiceNow APIs
iServer's API enables users to take advantage of operational, IT-centric data available from ServiceNow. Metrics and analytics in iServer are augmented with ServiceNow data and are presented via user friendly dashboards.
Flexible custom data mapping
Language mappings ensure you visualize and leverage ServiceNow data in your enterprise architecture models, standards and application portfolios assessments.
Multiple import profiles
Multiple profiles make it possible to simultaneously import different data on different schedules.
Benefits
Keeps ServiceNow data automatically synced with iServer
Provides enriched analysis, including live operational data from ServiceNow
Ensures data-based decision support for strategic planning and architecture
Business Outcomes
Save time synchronizing planning and operations data with your business transformation repository
Bulk import operational data from ServiceNow
Relate imported ServiceNow data to new and existing iServer architecture components to understand the impact of change
Who uses it?
Enterprise and Application Architects
IT Operations Managers
System Administrators
IT Strategy Managers
Download the Flyer
To find out more about the ServiceNow Connect module we have compiled a detailed list of features and benefits for you in this handy flyer. You can download it by clicking the link below.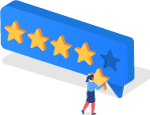 What our Customers are saying
Easy to implement and use. Realizing immediate value.
Before implementing iServer we managed our work on multiple disconnected spreadsheets, powerpoint and Visio diagrams. Our architecture practice had matured to the point that we needed a tool. We had adopted TOGAF as a framework. One of the things that attracted us to iServer was the fact that we could easily import our existing work
Senior Enterprise Architect in the Support Services Sector - read the full review
Read Case Study