About this Resource
The Open Group Architecture Framework has rapidly become the leading enterprise architecture framework in the market, however, its comprehensive nature can often be intimidating. Many IT professionals begin their understanding of TOGAF® with:
The pocket guide to TOGAF® 9.1
The full TOGAF® 9 specification, with 787 pages and 56 chapters, (downloadable from The Open Group website free of charge).
Orbus has produced the easy to digest TOGAF® 9.1 in Pictures Poster Pack as a valuable addition to these materials.
How can you benefit from the TOGAF® 9.1 in Pictures" Guide?
You need to illustrate a point regarding TOGAF® 9.1
You need inspiration on how to express a particular concept or approach
You want to supplement your study of the TOGAF® 9.1 specification with an alternative perspective
You need to give a high-level tour of the important concepts within TOGAF®
Our poster pack covers all of the important points in TOGAF® 9.1. The key groupings included are:
The Architecture Development Method
Guidelines and Techniques
Content Metamodel and Architecture Repository
Architecture Capability Framework
Find out more about the iServer TOGAF® 9 Solution.
Already a Member? Sign in here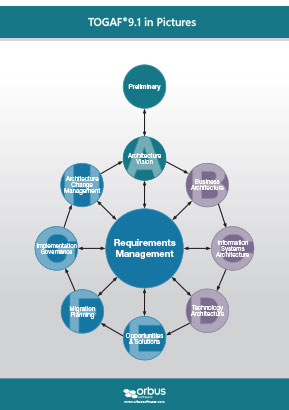 Our website uses cookies to improve your experience on our site. By using our website you consent to the use of cookies.