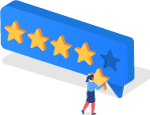 What our Customers are saying
Viso Modelling on Steroids.
We reviewed multiple tools to help operationalise our EA and BPM practices, and despite many tools having deep mature products Orbus was well ahead with their tight integration into the Microsoft suite of tools particularly Visio. Given that we did not need to retrain, or even re-do the majority of our artifacts it was a very quick transition into the tool.
Principal Enterprise Architect in the Construction Sector - read the full review
Read Case Study