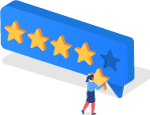 What our Customers are saying
Low learning curve, you can spend time on your capabilities instead of learning a tool.
Intuitive tool with Visio as UI meant we could focus on how to use TOGAF, ArchiMate, BPMN2 etc. in our organization, and not spend time learning a cumbersome tool. The excellent collaboration and publishing features of iServer were also key selling points for us.
Senior Enterprise Architect in the Manufacturing Sector - read the full review
Read Case Study